Difference between revisions of "Featured roguelike"
Jump to navigation
Jump to search
(Crossword Dungeon)

Line 1:
Line 1:

= Featured Roguelike: [[Forays into Norrendrin]] =

= Featured Roguelike: [[]] =






http://i.imgur.com/078Qqs.png

http://..com/

.






A twenty-level dungeon crawl with a skill and feat system, originally starting development in October 2011. The game features starting traits which define your special ability throughout the game on top of the skills/feats which you gain from shrines that can be found within the dungeon. There is a quick start system in place that will allow you to save past configurations for a faster start. There is a high-score system which is based on dungeon depth and player level comparisons. The game focuses on a clean user interface with many accessibility options such as quick slots, automated task options, key bindings and more.

a of the which you can the with .






[[Category:Browse]]

 

[[:]
---
Revision as of 21:54, 25 October 2012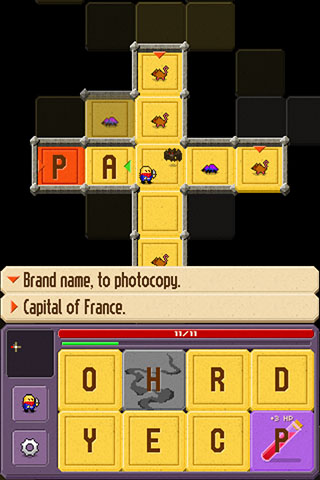 Crossword Dungeon is a fantasy-themed dungeon crawler built on top of procedurally generated crosswords.
Each letter of the crossword is guarded by a monster of increasing difficulty as the levels get deeper, which you can instantly dispatch by guessing the correct letter, or trade blows with by guessing the incorrect one.
There are three playable classes with unique skill trees: the Barbarian, with a focus on Gore Attacks and high damage; the Ranger, with a focus on revealing tiles and ranged attacks; and the Scoundrel, with a focus on Stealth attacks as well as a wide variety of opportunistic tricks.
It was developed by Nolithius in Objective C on top of Cocos2d and is available for iPhone.