Central Park Nanotech Warlex
Jump to navigation
Jump to search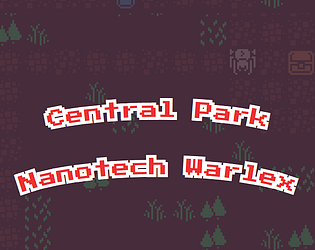 Overview
Central Park Nanotech Warlex is a coffeebreak roguelike set in a post-apocalyptic future. It was created during Kenney Jam 2020.
It's available for Android on Google Play: https://play.google.com/store/apps/details?id=cx.mccormick.warlex
A browser version is also available on Itch: https://chr15m.itch.io/central-park-nanotech-warlex
Story
The year is 2037. A nanotech virus called THE CURSE has eaten the infrastructure of civilization. All that's left is parks full of vigilantes, nano-wizards, & mech-undeads rampaging and pillaging.
There's a rumor circling, the myth of THE CURE. They say The Founder created it. A tiny golden droid encoded with a cypher. The only cypher known to spawn the antidote to THE CURSE. It's our only hope.
You are a humble nanotech warlex. Lately a resident of Central Park. You remember the world before, the world we lost. Today is the day you will seek the golden droid.
Hopes are slim, but there are no options left. You crawl out from under your shelter to find THE CURE.
Screenshots